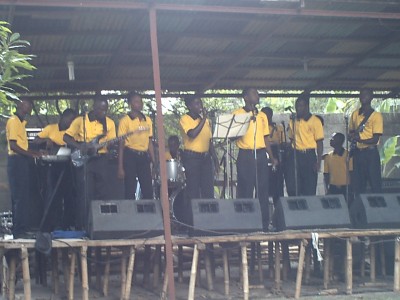 Easter 2011 was celebrated with the electrical guitars, keyboard, and drumset most recently shipping to Novion. Fr. Jacquelin writes:
"You can see the singer girl dressed in black. Her name is Magalie. She was the fifth of a national competition for singers. She is the pride of all of us. She is a talented singer. She likes music. Also you can see the maestro, his name is Jean-Baptiste. He plays guitar. He continues to study music."
They borrowed the amps from a local business for this concert.

The students now have my email address and access to computers once in awhile, so news and progress from the school should come in more often.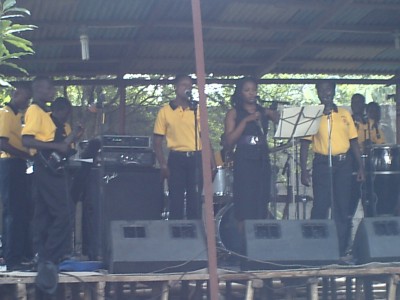 The instruments have arrived! YAY! They got through customs in lightning speed and are now being delivered to all three parishes: Plaisance, Novion, and Saint Cecile. One Note At A Time was able to ship (thanks to Food for the Poor) a drum set, marching drum line, clarinet, keyboard, bongo drum, and drum carriers and cases and books. Thanks to all who helped make this a reality!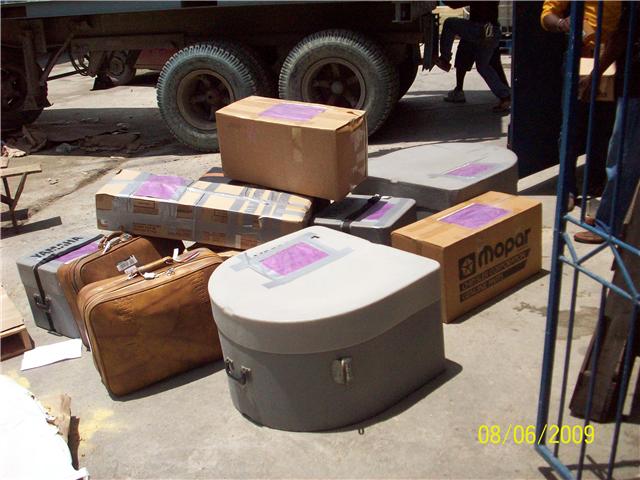 One Note At A Time is a non-profit affiliate of One Block At A Time Inc. We are bringing music and English education to Haitian mountain towns. Many towns suffer economically when both children and adults move to the cities in search of employment. These cities (like Port-au-Prince and Cap-Haitian) are the most crime-ridden in the country and do not actually offer the promise of jobs for which most people yearn.
ONAAT is sparking people's interests by providing education, extracurricular activities, and income in places where such opportunities are scarce. We do this by providing free music classes 3 times a week year-round. English classes are provided when ONAAT's founder or affiliates are on location. The main music instructor is paid a monthly wage to help pay for books and supplies and as a source of income to support his family.
The long-term goal is to be able to pay advanced students a small allowance for teaching beginning students, thus creating a small income and enhanced skills for a multitude of people.
Haiti does have two music conservatories, but the lower-class is not usually accepted unless their musical competence in extraordinary. ONNAT provides a formal training atmosphere for students who may be trying to gain access to conservatory education.
As a musician of any caliber can understand, music decreases stress, helps with math and reading in school, and helps maintain focus. ONAAT is committed to founding its ensembles on this idea. Through creating an enjoyable passtime, we hope to keep kids off the streets and out of bad situations. A sharp mind left idle is the worst weapon: especially in an impoverished country. Music can occupy these sharp minds.